16 Year old wonder kid Yoshi is taking the world by storm. He has his own album, stars in a feature film and is modeling for industry heavyweights such as Louis Vuitton.
We photographed him for Conde Nast's new instagram channel RumorMe.
Client: Self
Media: Animated Gifs & Stills
For a recent job I built and used a camera rig comprising of 5 Sony A7rii's that take all take a photo at the same time. Once composited into an animated Gif it creates an amazing three dimensional effect. Great for the web and social media.
Client: Self
Media: Still & Video
Usage: Web & Social
Over a few years I have learnt to box at a local gym. I always had interest in boxing and have come to respect it even more as I learnt the art myself.
I photographed and filmed some boxers in the studio trying to capture their physique and power. I love to use light and shadow to sculpt the body and figure. In photography using light to create interest is one of the powerful tools.
Client: Zink & Sons
Media: Video & Stills
Usage: Web & Social
For Zink and Sons I concepted and created an online video to tell the story of their history and process. We shot and interview with Zink & Sons head Tailor Daniel Jones and overlaid it with B roll footage shot in and around their shop and work room. We then broke it down into short videos for social media sharing. We also shot stills for their website and social media feeds within the same production.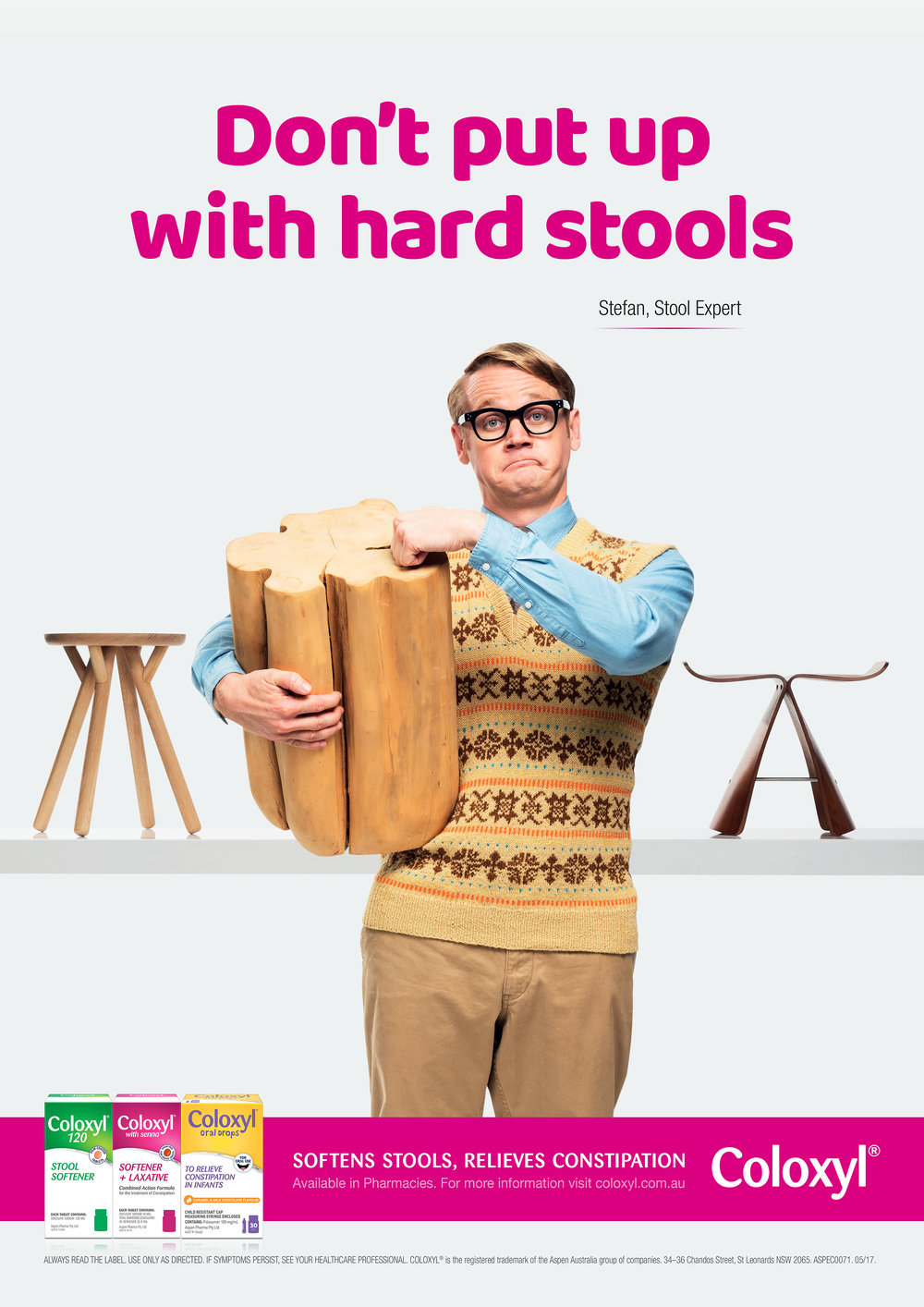 Client: Aspen Group
Agency: Ogilvy
Media: Stills & Video
Usage: Brochure, POS, Web, Social
It's great working with some inspired and comedic creatives especially when dealing with the topic of constipation. Their idea was in point and with the right casting and styling we came up with a great result.
Client: Invocare
Agency: Sujet
Media: Video
Usage: Online, TVC, Showroom
For the White Lady campaign we worked with Australian Media personality Ita Butrose to create a on online video and 15 Second TVC. The production was hit by multiple challenges that we overcame. Facing weeks of rain we moved the shoot from a Park to a house location. Then on the day we experienced constant noise interruptions from unexpected construction next door. Luckily with some professional performances and a proficient crew we pulled it off without the financial stress of overtime.
Client: SBS (tv network)
Agency: SBS
Media: Stills
Usage: Online & Print
I shot this image for a promotion for the SBS reality show Living with the Enemy. The Art department worked overtime to create this set on one of their sound stages. The show featured people with extremely opposing views living together for one drama filled week. To showcase this idea we created toy soldiers that represent opposing sides of fundamentalist Christians and a Gay couple going to war with each other.
Client: St.George Bank
Agency: Lavender
Media: Stills
Usage: Web and Print
For this campaign we created lifestyle images of talent in various shopping situations. We had to be very precise about capturing the hand making the zero shape. It's one of those examples where we had to stick to the layout with precision.
Client: Bayer
Agency: Grey
Media: Stills
Usage: Print & Web
It's always interesting working with animals. You never know how it is going to go. To achieve this image we shot the cat and the Dog separately. It was just too much distraction for them to be on set together. So with the magic of photoshop it's all made easy.