Client: Self
Media: Animated Gifs & Stills
For a recent job I built and used a camera rig comprising of 5 Sony A7rii's that take all take a photo at the same time. Once composited into an animated Gif it creates an amazing three dimensional effect. Great for the web and social media.
Client: Zink & Sons
Media: Video & Stills
Usage: Web & Social
For Zink and Sons I concepted and created an online video to tell the story of their history and process. We shot and interview with Zink & Sons head Tailor Daniel Jones and overlaid it with B roll footage shot in and around their shop and work room. We then broke it down into short videos for social media sharing. We also shot stills for their website and social media feeds within the same production.
Client: Self
Media: Still & Video
Usage: Web & Social
Over a few years I have learnt to box at a local gym. I always had interest in boxing and have come to respect it even more as I learnt the art myself.
I photographed and filmed some boxers in the studio trying to capture their physique and power. I love to use light and shadow to sculpt the body and figure. In photography using light to create interest is one of the powerful tools.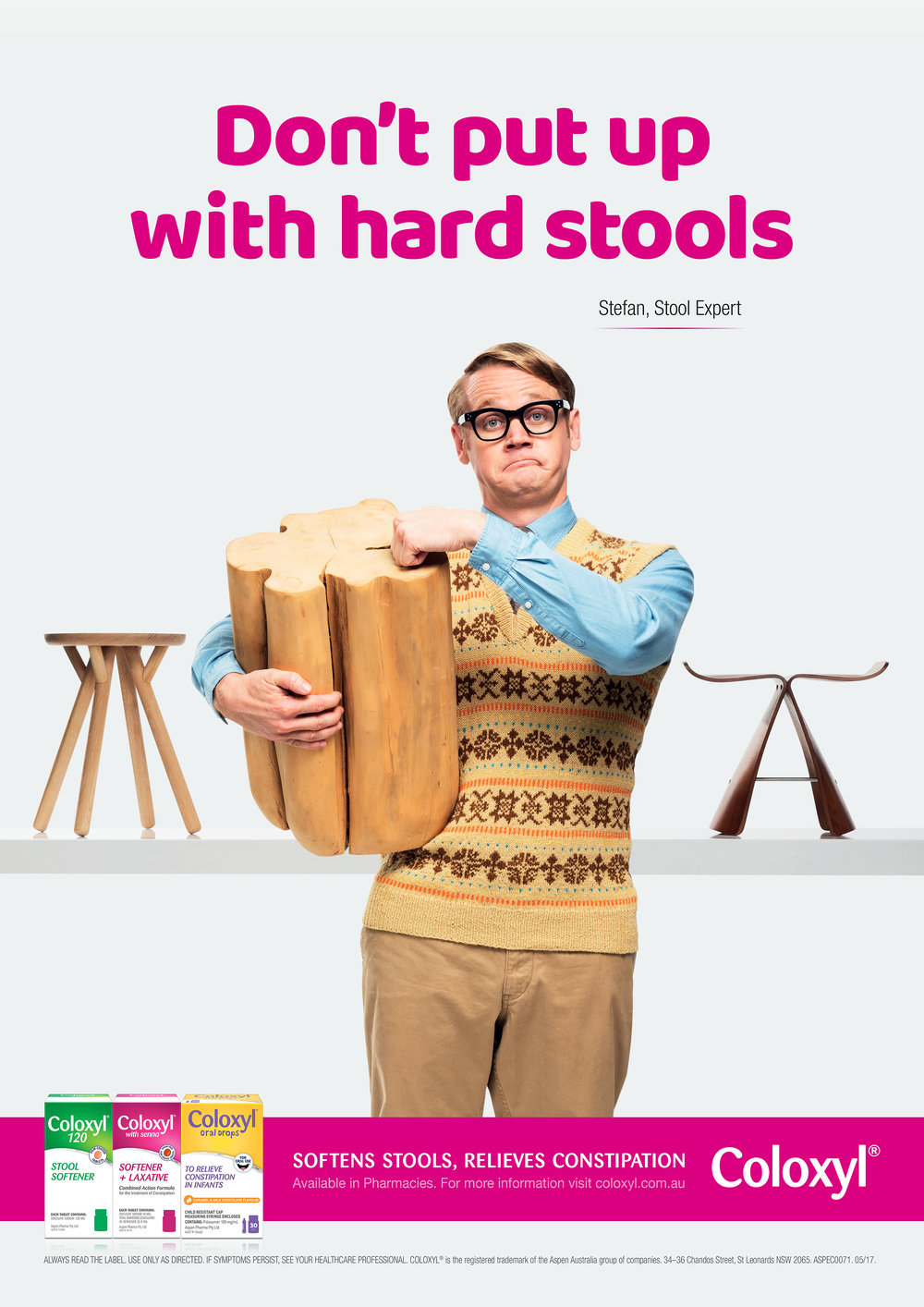 Client: Aspen Group
Agency: Ogilvy
Media: Stills & Video
Usage: Brochure, POS, Web, Social
It's great working with some inspired and comedic creatives especially when dealing with the topic of constipation. Their idea was in point and with the right casting and styling we came up with a great result.
Client: Invocare
Agency: Sujet
Media: Video
Usage: Online, TVC, Showroom
For the White Lady campaign we worked with Australian Media personality Ita Butrose to create a on online video and 15 Second TVC. The production was hit by multiple challenges that we overcame. Facing weeks of rain we moved the shoot from a Park to a house location. Then on the day we experienced constant noise interruptions from unexpected construction next door. Luckily with some professional performances and a proficient crew we pulled it off without the financial stress of overtime.
Client: SBS (tv network)
Agency: SBS
Media: Stills
Usage: Online & Print
I shot this image for a promotion for the SBS reality show Living with the Enemy. The Art department worked overtime to create this set on one of their sound stages. The show featured people with extremely opposing views living together for one drama filled week. To showcase this idea we created toy soldiers that represent opposing sides of fundamentalist Christians and a Gay couple going to war with each other.
Client: St.George Bank
Agency: Lavender
Media: Stills
Usage: Web and Print
For this campaign we created lifestyle images of talent in various shopping situations. We had to be very precise about capturing the hand making the zero shape. It's one of those examples where we had to stick to the layout with precision.
Client: Bayer
Agency: Grey
Media: Stills
Usage: Print & Web
It's always interesting working with animals. You never know how it is going to go. To achieve this image we shot the cat and the Dog separately. It was just too much distraction for them to be on set together. So with the magic of photoshop it's all made easy.
Client: Taylor
Agency: Extra Black
Media: Stills & Video
Usage: Web, Social, Print
When I make the crew start at 3:30am to capture the beautiful light I have to make sure the producer has good coffee and a great breakfast waiting.
Working with a local production manager we casted, storyboarded, planned and shot both stills and video to cover all aspects of the clients media needs. We created enough content for their brochure, promotional online video, their display suite and content for promotion through their social media channels.
Client: Redbull Australia
Media: Stills
Usage: Web, Social, Print
For the Redbull content team we photographed Big Wave surfers Mark Mathews and Ross Clark Jones as well as tour professionals Julian Wilson and world champion Mick fanning. We shot both on location and in a makeshift studio we created at the Redbull headquarters.
Client: BMW Japan
Media: Stills & video
Usage: Social media
When photographing and filming the Z4 from BMW it was pouring with rain. We shot in the docklands of Shinagawa and in the Industrial area of Kawasaki. The Rain created a great atmosphere with the great reflections on the street. But with the constant rain were forced to use the environmental lighting as setting up strobes was too hazardous.
Sometimes on shoots there are things you can't control but we just have to make the most of every situation.
Client: Krinklewood Bio Dynamic Winery
Media: Online video x 3
Usage: Web & Social
It was the dream job. Hanging around a winery in the most beautiful countryside sipping wine and eating cheese.
But in all seriousness my assistant and I did work hard. No matter how much wine is drunk we still have to get up before sunrise to capture the early light. There is no comprimise on getting the beautiful shots!
Client: Zink & Sons
Media: Stills & Video
Usage: Web, Social, Print
For the this campaign I not only shot it but put the concept together. I don't know how happy my camera operator was when I told him we had to balance upon the bow of a fast moving boat. But we balanced there together, him holding the camera and me holding him with no major losses into the sea.
Client: Paypal
Agency: Isobar
Media: Stills
Usage: Web, Social media, Ooh
For this Paypal campaign we visited 4 different cities across Australia to photograph small business owners who were successfully using Paypal. We arrived at each location without seeing it previously and got to work creating Ad worthy image out of the situation.
Client: Sydney Spa and Beauty exhibition
Media: Stills
Usage: Web & Print
I like shooting Beauty imagery as it is all about the lighting and the angles. It's quite similar to car photography from that point of view. We shot a series of images for the promotion of the Sydney Spa and Beauty Exhibition. It was all about great natural skin and some nicely blended contouring.
Client: Zink & Sons
Media: Still & Video
Usage: Print & Web
This shoot was all about the bearded gentlemen. With a casting call sent out across facebook we found 4 bearded characters that could pull off the look. We shot in a temporary studio set up in the Zink & Sons showroom whilst our talent smoked cigars, drunk Whiskey and played with swords. An interesting combination.
Client: F45
Media: Stills
Usage: Social media
I photographed F45 representative nand Ex Rugby player Dan Conn. The brief was to create a series of traning/lifestyle images that could be use on scial media to promote the F45 lifestyle.